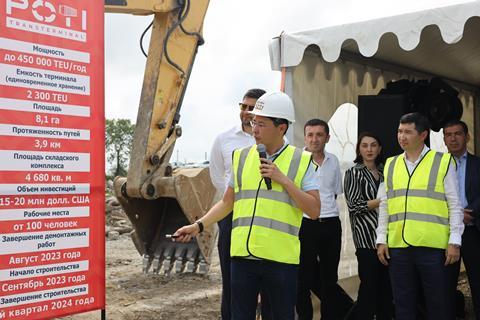 GEORGIA: Kazakhstan-based logistics group PTC Holding has begun construction of a multimodal freight terminal at the Black Sea port of Poti to support growing traffic on the Trans-Caspian International Transport Route between China and Europe.
PTC said the war in Ukraine had seriously affected global logistics, including the routes traditionally used by Kazakhstan's exports and imports.
This has increased the importance of the Trans-Caspian International Transport Route, or Middle Corridor, which passes through Kazakhstan and across the Caspian and Black seas, avoiding Russia.
Between US$15m to US$20m is to be invested in the Poti TransTerminal, where a ceremony marked the start of construction work on August 11.
Commissioning of the first stage is planned in Q1 2024. This will see the terminal equipped with three reachstackers, a gantry crane, a shunting locomotive and forklifts.
PTC Holding Chairman Timur Karabaev said the initial emphasis will be on the Trans-Caspian International Transport Route and the CASCA+ multimodal transport initiative. This is being led by the state railways of Azerbaijan, Georgia, Kyrgyzstan, Turkmenistan, Turkey and Uzbekistan.
The terminal is expected to handle 80 000 TEU/year at first, with a maximum capacity of of 450 000 TEU/year.
Kazakhstan's Minister of Industry & Infrastructure Development Marat Karabayev said 'the construction of the port terminal will be the first Kazakh infrastructure project implemented in Poti, one of the largest ports in Georgia, which is a reference point on the Trans-Caspian International Transport Route, which is extremely important for Kazakhstani enterprises in the current geopolitical situation in the world, as well as for the diversification of logistics routes'.