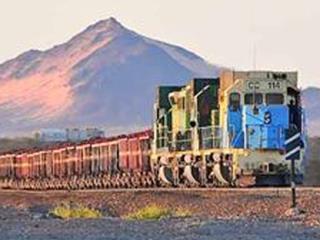 MAURITANIA: Société Nationale Industrielle et Minière has awarded Electro-Motive Diesel a contract to supply six SD70ACS heavy haul diesel locomotives with AC traction motors, the manufacturer announced on October 20.
To be delivered from late 2011 they will allow the operation of heavier mineral trains through the harsh desert environment on the 700 km route from the mines to the port of Nouadhibou.
Each locomotive will have an isolated and air-conditioned tropical cab featuring a customised roof design to help dissipate heat when operating through desert temperatures of 50°C. They will also feature pulse filtration and movable sand ploughs.
The order will bring the total number of EMD locomotives operating in Mauritania to 44. 'SNIM has one of the most efficient and productive mining operations', said Ramzi Imad, EMD's Regional Director for Middle East & North Africa. 'They operate an all EMD fleet at 97% availability, which is one the highest rates of the North African and Middle East region, and we are proud of our 30-year relationship with SNIM.'