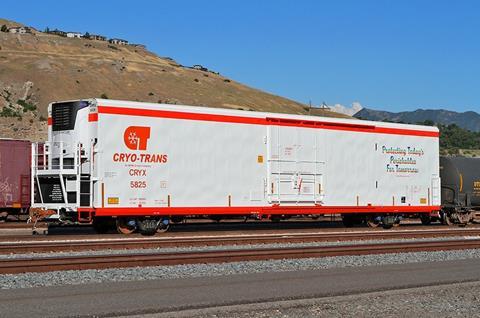 USA: Temperature-controlled transport and warehousing company Lineage Logistics has acquired refrigerated wagon owned Cryo-Trans, saying the deal would a create a 'uniquely comprehensive and seamlessly integrated supply chain solution for food and beverage customers'.
Cryo-Trans owns more than 2 200 refrigerated and insulated wagons, the largest private fleet of its kind in North America, and manages more than 40 000 annual rail shipments using proprietary technology to provide real-time information.
'Welcoming the dynamic team from Cryo-Trans further diversifies Lineage's comprehensive suite of multi-modal services and creates a unique, under-one-roof solution for our customers in which warehousing and transportation are seamlessly integrated', said Lineage President & CEO Greg Lehmkuhl on January 5.
'Combining our leading facility footprint, a railcar network and data-driven transportation management systems enables us to further optimise freight, create greater efficiencies, generate unprecedented supply chain visibility and provide a new ease of doing business for our customers.'
JP Morgan acted as a financial adviser to Lineage, and Latham & Watkins as a legal adviser.