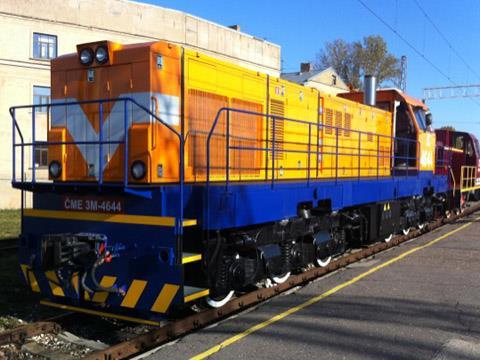 LATVIA: On show at Riga's Central station in conjunction with the 1520 Strategic Partnership meeting are two prototype locomotives rebuilt by the national railway's rolling stock services subsidiary LDZ Ritosa Sastava Serviss to comply with European Stage IIIA emissions standards.
The more powerful of the two is a CME3-M Co-Co shunter rebuilt with a Caterpillar 3512D engine rated at 2 000 hp. LDZ RSS has a contract to deliver a further 13 of this type to LDZ Cargo by the end of 2013.
The prototype has been tested at Daugavpils marshaling yard, where it proved able to move an 80 wagon train grossing 6 300 tonnes over the hump. LDZ Cargo currently uses twin-unit ex-Soviet diesels on such duties.
The second locomotive on show is a TGM23BV three-axle diesel-hydraulic for trip freight and industrial branches. This has been equipped with a 540 hp Volvo Penta engine, replacing the original 400 hp prime mover derived from a Soviet tank engine.