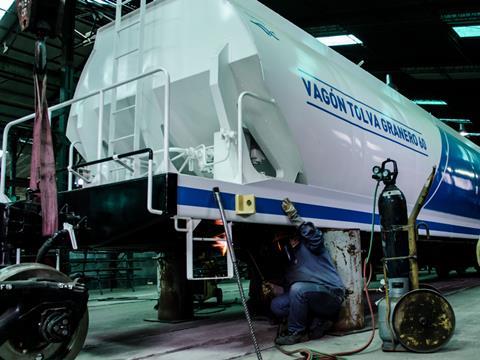 ARGENTINA: Military equipment manufacturer Fabricaciones Militares is to build 1 050 wagons for state-owned freight operator Trenes Argentinos Cargas y Logística SA, under a contract worth 972m pesos that was signed on July 28 in the presence of Defence Minister Agustín Rossi and Minister of the Interior & Transport Florencio Randazzo.
With deliveries scheduled to take place over the next two years, a new production line installed at the Río Tercero plant is to build three wagon types developed by FM following some 5 000 h of design work. Production will provide direct employment for 80 staff and also involve over 150 small and medium-sized suppliers.
For the 1 000 mm gauge Belgrano network, FM is to supply 50 covered grain hoppers, each with a payload of 45 tonnes. Two designs suitable for operation on 1 000 mm, 1 435 mm or 1 676 mm gauge are also to be produced: 400 flat wagons capable of carrying containers, steel coil, rail or sleepers, and 600 spine wagons each able to accommodate one 40 ft and one 20 ft container or three 20 ft containers.
'We are resuming wagon production at Fabricaciones Militares because it is a strategic area for national development', said FM Director Santiago Rodríguez. 'Today we are leading this new stage where, through the use of the latest technology, we are developing a competitive industry which finds the best solutions for Argentinian logistics'.
As well as the Belgrano system, Trenes Argentinos Cargas y Logística is now also responsible for the 1 676 mm gauge San Martín and 1 435 mm gauge Urquiza networks that were formerly operated by private-sector freight concessionaire América Latina Logística SA.