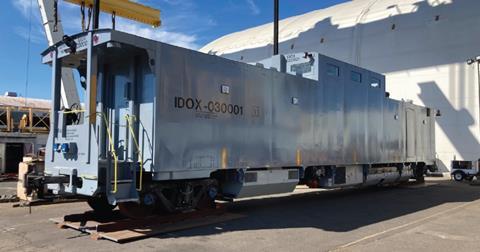 USA: Specialist rail vehicles are being developed for the transport of military and civilian nuclear fuel and high-level radioactive waste to disposal and storage facilities.
The US Navy has initiated a project to replace its ageing fleet of Rail Escort Vehicles, which are designed to provide a comfortable living and working environment for security personnel escorting nuclear loads. The Navy has ordered five REVs, with the Department of Energy contributing more than $10m towards design and production and planning to order similar vehicles for escorting civilian materials.
DOE said the REV 'is no ordinary caboose', being equipped with cameras and communications equipment for surveillance of shipments throughout the journey.
A prototype REV built by Vigor Works in Portland, Oregon has been sent to the Transportation Technology Center in Pueblo, Colorado for testing.
Also on test at the TTC is a 12-axle wagon for the transport of civilian nuclear waste which was designed and built by Kasgro Rail of New Castle, Pennsylvania,
Branded Atlas, this is designed to carry 17 different spent fuel containers weighing between 74 tonnes and 190 tonnes. The design process included extensive computer modelling of dynamic performance with various components, container attachment mechanisms and container weights.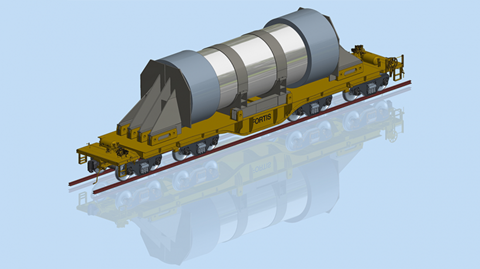 In January the Department of Energy issued a request for proposals for the manufacturing and testing of Fortis, an eight-axle heavy-duty flat wagon for transporting civilian high-level radioactive material. DOE will provide the design to the chosen contractor, and Pacific Northwest National Laboratory will provide technical support. Entry into service is planned by 2027.
The nuclear trains will also include buffer wagons built by Kasgro Rail, and will be hauled by two locomotives supplied by the railways where they operate.
The first train is expected to be ready for operation in 2024.
The DOE trains will operate across the contiguous USA, where civilian spent fuel and high-level waste is currently located at more than 100 sites.
The Navy shipments using existing fuel cask transport wagons will operate to and from nuclear-capable shipyards.