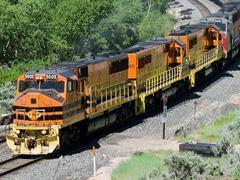 USA: Genesee & Wyoming Inc confirmed on October 1 that it had completed the acquisition of RailAmerica from Fortress Investment Group, along with an associated financial restructuring.
Rail America has a portfolio of 45 short line railroads totalling 12 000 km, a similar length to GWI's 66 railways and 23 port shunting operations which are spread across the USA, Australia, Canada, the Netherlands and Belgium.
Control of RailAmerica has been placed into a voting trust pending a decision from the US Surface Transportation Board whether to approve the takeover, which is expected in the fourth quarter of 2012 or first quarter of 2013.
GWI said that accounting would remain separate while the short line holding group was held in trust, and the anticipated cost savings from combining the two businesses would 'not be realised' until STB approved the change of control.
To fund the $1·37bn cash purchase of RailAmerica's shares, refinance its own and Rail America's debts totalling $1·23bn, and cover transaction expenses, GWI has entered into a five-year Senior Secured Credit Facility comprised of a $1·875bn term loan and $425m revolving credit facility. It also used approximately $460m of cash from recent public offerings of common stock and $350m from a private issue of convertible preferred stock to The Carlyle Group.