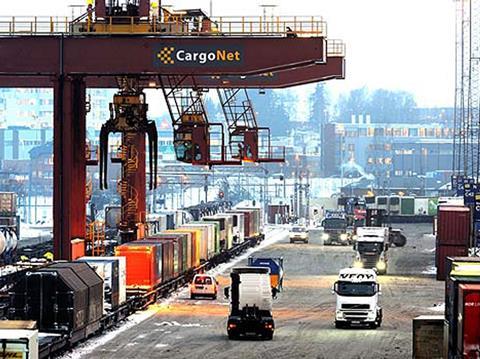 NORWAY: Infrastructure manager Jernbaneverket announced on August 10 that it is looking to encourage new operators to provide services at its Ganddal rail freight terminal in Stavanger and the Brattøra terminal in Trondheim.
The project is a trial at the behest of the Ministry of Transport & Communications, which wants to introduce competition in the market. If it is successful, all 12 JBV-owned freight terminals would be opened up to multiple operators from 2017.
As part of this strategy, ownership of the terminals was transferred to the infrastructure manager from operator CargoNet at the beginning of this year. JBV is currently investing NKr3·7bn in additional capacity across its network and terminals to accommodate a projected doubling in rail freight volumes by 2020.
According to JBV's Head of Terminals Kjell Ivar Maudal, the operations will not be outsourced through a competitive tender 'as we are not intending to purchase any services'. The intention is to allow multiple operators to make use of the facilities, although JBV says it will still have to control who operates within each terminal. Anyone wishing to offer services at the freight terminals will therefore have to gain approval from the infrastructure manager, and must also have entered into a contract with a train operating company.
As this will be the first time that terminal operations in Norway have been outsourced to companies outside the rail sector, JBV says applicants will have to undergo a four-stage approval process before being allowed to use the facilities. They will need to have their company documentation in order, and demonstrate that they have a suitable quality control system in place. They will also have to meet health and safety criteria, with the relevant certification, and undertake training courses to raise staff awareness of the risks associated with working on or close to railway tracks.
Each company must also provide mess room facilities for its staff, although it will be possible to lease these from the infrastructure manager. JBV has also pointed out that it has strict environmental requirements, including provision for dealing with fuel spills and other hazards.