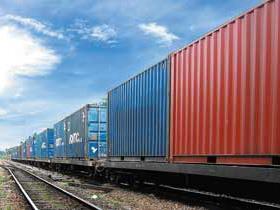 INTERNATIONAL: RZD Logistics has operated a trial service carrying EU goods subject to Russian sanctions in transit from Germany and Estonia to China via the northern route through the Zabaikalsk border crossing.
This follows a trial during March on the southern route via Kazakhstan, which carried frozen salmon from the Netherlands to China.
'The opening of a new route for the transport of sanctioned goods is a significant and fundamental milestone on the path of increasing the transit flow of goods from European countries in the eastern direction', said RZD Logistics General Director Dmitry Murev on May 18. 'In addition to the existing southern transit route through Kazakhstan, the northern route opens additional opportunities for our customers and partners.'
FELB was responsible for freight forwarding between the EU and China, with TransContainer as the partner in Russia. Electric seals were put on the two containers at Smolensk-Sortirovochny near Russia's border with Belarus and removed at Zabaikalsk.
Murev said the trial was the result of 'painstaking, systematic and well co-ordinated work' by RZD Logistics, Russian Railways' Centre of Corporate Transportation Services and the Digital Platforms Development Centre.