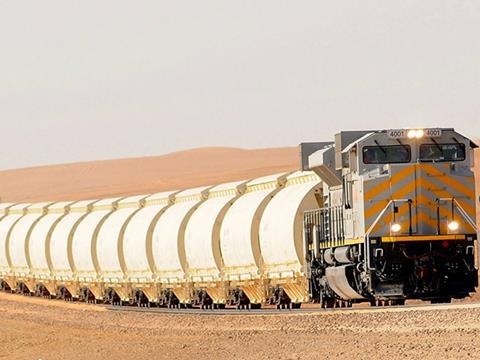 SAUDI ARABIA: The Greenbrier Companies announced its entry into the Middle East wagon market on October 7, with a contract to supply approximately 1 200 tank wagons of three types to Saudi Railway Co.
The wagons will be used to carry molten sulphur and phosphoric acid on the North–South Railway for mining company Ma'aden's, to its plant Wa'ad al Shamal Industrial City.
They are to be built by Greenbrier's Wagony Swidnica subsidiary in Poland, to US standards and on production lines certified by the Association of American Railroads. Deliveries are scheduled to run from the second half of 2016 to 2018.
Greenbrier said it envisages strong demand for wagons in the Gulf Co-Operation Council countries over the next decade, and is to open offices in Saudi Arabia with an on-site country manager supported by project managers in Riyadh and Wa'ad al Shamal. Chairman & CEO William A Furman said Greenbrier intends 'to hire and train Saudi employees who will create a sustained base of operations in Saudi Arabia'.
'Our recent expansion into Brazil and Saudi Arabia extends our geographical reach into new international markets and further diversifies our business', said Furman. 'Production facilities now include major factories in Mexico to serve North America and Latin America; Brazil which can reach African and Latin American export markets; Poland for Europe, near-Asia, Saudi Arabia and other Middle East markets, as well as our flagship factory, Gunderson, in the United States.'
Greenbrier received orders for 2 900 wagons valued at $470m in the three months to August 31, including the Saudi Railway Co order. 'Our diversified backlog of 41 300 units valued at $4·71bn as of August 31 2015 is near all-time highs, giving us visibility well into 2016, 2017 and beyond', said Furman.