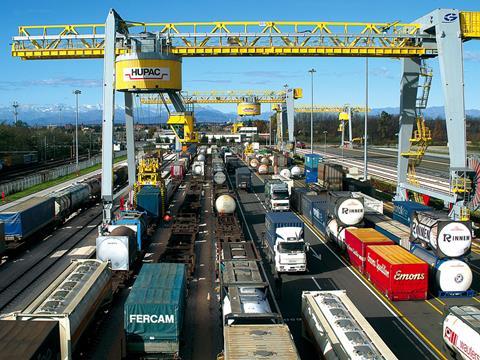 EUROPE: An agreement for Switzerland to fund gauge enhancement works to provide clearance for 4 m high semitrailer traffic from freight terminals in northern Italy to the Swiss border was signed by the two countries' transport ministers on January 28.
Switzerland is aiming to encourage road freight to switch to rail on the trans-Alpine corridor running through the future Ceneri and Gotthard base tunnels to Basel. Completion is envisaged for 2020.
As this project would be of more benefit to Switzerland than Italy, the Swiss government has agreed to provide Italian infrastructure manager RFI with €120m for works on the line through Luino, while Italy will provide €40m for the Milano - Chiasso route.
The investment was welcomed by intermodal transport operator Hupac, which said increasing clearances to its Busto Arsizio terminal near Milano would improve productivity, reduce costs and strengthen the competiveness of rail.
The Swiss and Italian safety authorities have signed an agreement to increase cross-acceptance of rolling stock approvals. Switzerland has similar agreements in place with France, Germany, Austria, Spain, Belgium, Luxembourg and the Netherlands.