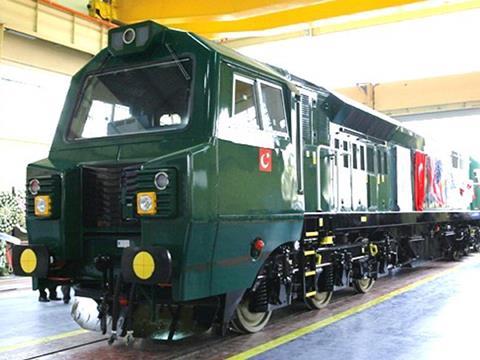 TURKEY: Celebrations in Eskisehir on February 28 marked the rollout of the first PowerHaul diesel locomotive to be assembled in Turkey. The locomotive has been assembled by Tülomsas using components manufactured at GE Transportation's plant in Erie, Pennsylvania, USA.
The locomotive will run on the TCDD network for testing and demonstration over the next year, and is not part of the order placed by PowerHaul launch customer Freightliner in the UK.
GE Transportation signed a memorandum of understanding with Tülomsas in 2008, covering a collaboration to supply PowerHaul locomotives for the European, Middle East and North African markets. GE is has confirmed it is currently in 'active negotiations' with several potential customers in Europe.
'We are very proud to unveil the first PowerHaul locomotive assembled by our own team', said Tülomsas Chairman & Director-General Hayri Avci. 'This locomotive represents the next important step in our partnership, which combines advanced locomotive technology from GE with Tülomsas' extensive manufacturing experience and expertise in the region.'
GE Transportation's President & CEO Lorenzo Simonelli said 'this first locomotive is not just an achievement that proves the high-level of local manufacturing capability. It is the first of hopefully many more that will ultimately serve rail customers in the region and beyond, sustain or create jobs and drive infrastructure growth.'
The first Erie-built PowerHaul locomotives were delivered to UK operator Freightliner in 2009. Designated Class 70, the 129-tonne locos are powered by a 16-cylinder engine rated at 3 700 hp, which meets EU Stage IIIa emissions requirements, and can handle trailing loads up to 1 900 tonnes.