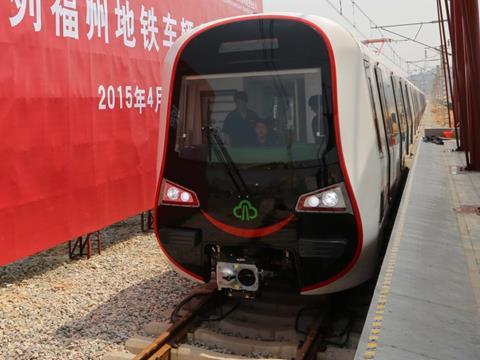 CHINA: Test running on the first metro line in Fuzhou commenced on January 4. Testing on a nine-station section between Sanchajie and Fuzhou South main line station is due to last for three months.
The 24·9 km north-south underground Line 1 will link Xiangfeng with Xiayangcun via Fuzhou North and Fuzhou South main line stations. There will be 24 stations, and depots at both ends of the route.
Plans for the Fuzhou metro were officially approved in 2008. Construction began in 2010, but has been delayed because of archaeological work along the route.
CRRC Tangshan is supplying 28 six-car Type B trainsets ordered in early 2014. The aluminium-bodied trains have a maximum speed of 80 km/h and capacity for 1 460 passengers including 256 seated. They draw power from overhead wires at 1·5 kV DC.
It is envisaged that services will run at 5 min headways. A service speed of 35 km/h would give an end-to-end journey time of 40 min.