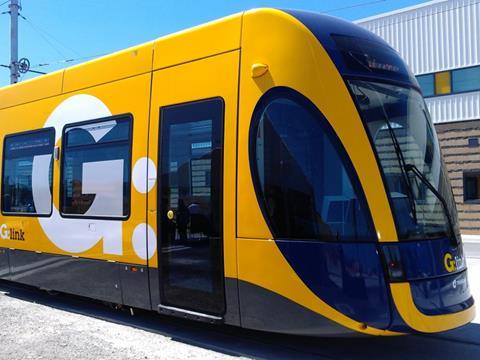 AUSTRALIA: The first tram for the Gold Coast was presented to project stakeholders by Bombardier Transportation on September 20. The event was also used to launch the branding for the route.
The first two Flexity 2 trams arrived in Brisbane from Bombardier's Bautzen factory in Germany on September 10 and were transported to the depot in complete units using a specially designed 20-axle steerable trailer. A further six trams are on their way and the remaining six are to be delivered by early next year.
The seven-section, 100% low-floor air-conditioned tram is 43·4 m long and 2 650 mm wide and uses the Bombardier Mitrac propulsion system. It includes racks for surfboards.
The first section of the Gold Coast light rail line runs from the depot to Southport. Passenger services are expected to begin in mid-2014. The project is an 18-year public-private partnership between the Queensland government and the GoldLinQ consortium of Bombardier, KDR Gold Coast, McConnel Dowell Constructors (Aust) Pty Ltd and Plenary Group Pty Ltd. GoldLinQ is responsible for design, construction, operations and maintenance.