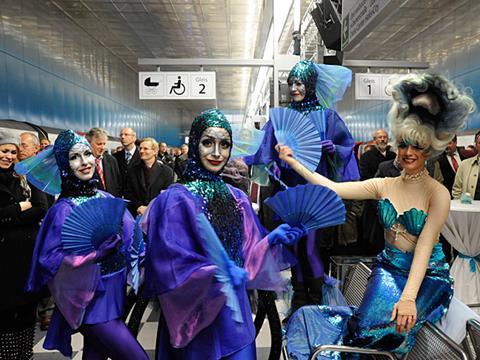 GERMANY: Mayor Olaf Scholz inaugurated Hamburg Hochbahn Line U4 linking the city centre with the HafenCity redevelopment area on November 28. Travel is free from November 29 until December 9, when revenue services will begin.
Construction of the 4 km underground U4 has taken five years at a cost of €324m, of which around €150m was provided from federal sources and the rest locally. Work was undertaken by a consortium led by Hochtief and including Aug Prien, HC Hagemann and Ed Züblin
The regular service will see U4 trains running every 10 min over the existing Billstedt - Jungfernstieg section of U2, continuing on the new line to Überseequartier station which features reflective and blue materials to create an undersea theme.
Trains will continue beyond Überseequartier to the HafenCity-Universität station only during weekends and holidays until the university opens in late 2013 and a daily service begins.
The line is to be extended to Elbbrücken by 2017.