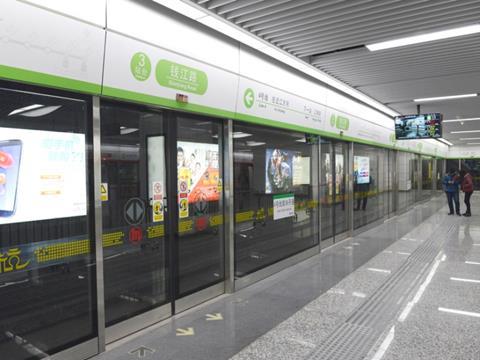 CHINA: The first section of Hangzhou metro Line 4 opened on February 2. This is the third metro line in Hangzhou; Line 1 opened in November 2012 and Line 2 exactly two years later.
The 9·6 km northeast section runs along the left bank of the River Qiantang between Pengbu and Jinjiang. The 10 stations include three interchanges with Line 1 and one interchange with Line 2.
The depot is shared with Line 1 and is located at Qibao, beyond Line 4's northern terminus. The line is electrified at 1·5 kV DC and is operated with a fleet of Type B trainsets with a maximum speed if 80 km/h. Services run between 06.30 and 22.30.
The southwest section is scheduled to open in 2017. It will add 11·2 km and eight stations, taking the route to Puyan.