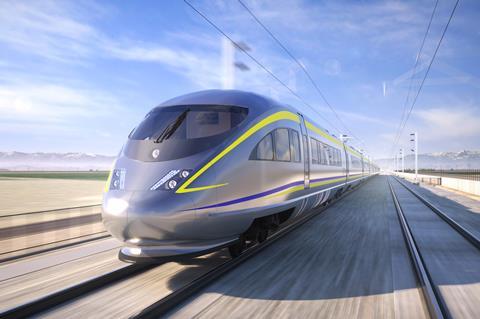 USA: California High-Speed Rail Authority has begun the process of procuring six electric trainsets capable of operating at 355 km/h.
On August 24 the board approved the release of a request for qualifications. Responses are to be submitted by prospective manufacturers in November, with a request for proposals to be issued to prequalified respondents in Q1 2024.
It is envisaged that the first two trainsets would be delivered in 2028 for testing and trial running at up to 390 km/h.
The other four trainsets would be delivered by the end of 2030 to support the start of revenue operations on the 275 km Merced – Bakersfield Initial Operating Section of the planned San Francisco – Los Angeles route.
'Our action today allows us to deliver on our commitment to meet our federal grant timelines to start testing', said CHSRA board Chair Tom Richards. 'This is an important milestone for us to deliver high speed rail service in the Central Valley and eventually into northern and southern California.'
The contract would include the design, manufacturing, testing and commissioning of the trainsets and driver training simulators, along with the development of design criteria for interfaces with the infrastructure and the provision of maintenance and spare parts for 30 years.
'We are procuring the latest generation of high speed trains for this first-in-the-nation project', said CHSRA Chief Executive Brian Kelly. 'We look forward to working with members of the industry as we strive to develop a market for high speed trains in the United States.'