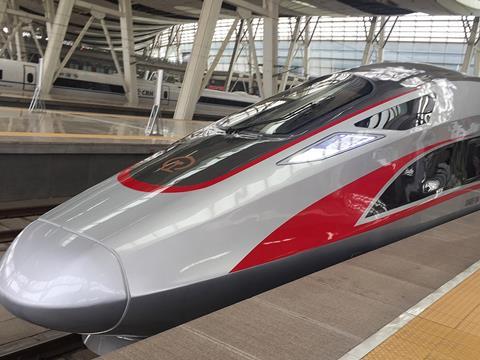 CHINA: Test running at speeds up to 350 km/h is underway on the Beijing – Shanghai line, as part of China Railway Corp's plan to reinstate the previous national maximum speed six years after it was reduced to 300 km/h in the wake of the Wenzhou collision in July 2011.
A new timetable is expected to be introduced in mid-September which would cut journey times on the 1 300 km Beijing – Shanghai route by around 30 min to about 4½ h. Services would be operated with Fuxing trainsets, which were designed by CRRC with speeds up to 400 km/h in mind. According to the manufacturer, a test run on July 27 showed that a Fuxing trainset would use 10% less energy than a CRH380 when running at speeds of 350 km/h, although a Fuxing trainset's energy consumption at 350 km/h would be 20% to 30% higher than when it runs at 300 km/h.
China's first 350 km/h services were launched on the Beijing – Tianjin line in August 2008 and more routes followed, but maximum speeds were reduced to between 250 km/h and 300 km/h in 2011.