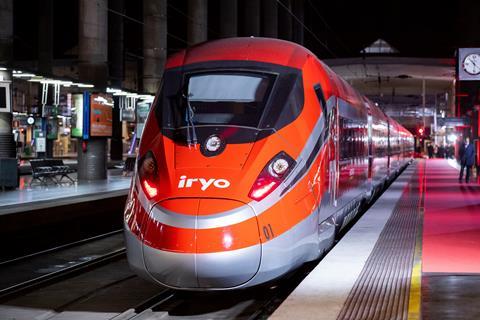 SPAIN: Independent high speed operator ILSA unveiled Iryo as its customer-facing brand in a ceremony at Madrid Atocha station on November 18.
Iryo services are expected to start in the final quarter of 2022 linking Madrid with Barcelona, València, Alacant, Málaga and Sevilla. Iryo is a compound word formed of the infinitive of the Spanish verb 'to go', and the first person singular pronoun 'I'. The livery and brand name were created by Columna Branding, which also provided the operator's slogan, La Nueva Velocidad.
The ceremony was attended by Infrastructure Secretary Isabel Pardo de Vera, ADIF President María Luisa Domínguez, Italy's Ambassador to Spain Riccardo Guariglia, ILSA President Carlos Bertomeu and Managing Director Víctor Bañares.
Once launched, Iryo will account for 30% of all high speed services operating in Spain; ILSA has plans to carry up to 8 million passengers annually. Testing of its fleet of 20 ETR1000 trainsets supplied by Hitachi Rail has been completed between Madrid, Barcelona and Sevilla at speeds of up to 200 km/h, and the test runs are now being stepped up to 300 km/h.
ILSA has also confirmed its long-term ambition to launch cross-border services from Spain into France and Portugal, although as yet it has no firm timescale for such an expansion.