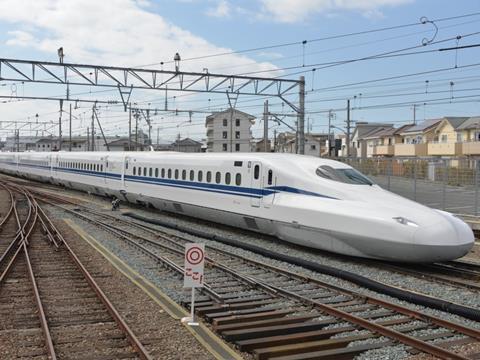 JAPAN: President of Central Japan Railway Shin Kaneko announced on January 6 that the N700S prototype trainset will be tested at up to 360 km/h later this year.
Running trials with the 16-car N700S prototype began in March last year, and the train has since achieved a maximum speed of 330 km/h. Kaneko said in an interview that 'we aim to carry out test runs at 360 km/h this year so that we can demonstrate safety when we export the train to such markets as the United States and Taiwan'.
Series-built versions of the N700S are expected to enter commercial service on the Tokaido Shinkansen in the financial year starting in April 2020. Maximum speed on the 515·4 km route between Tokyo and Shin-Osaka is limited to 285 km/h, but trains continuing beyond Shin-Osaka on JR West's Sanyo Shinkansen to Hakata are permitted to run at 300 km/h. The N700S incorporates a number of design changes compared with its predecessor the N700A and is expected to reduce energy consumption and improve passenger comfort.
JR Central's Series 300X experimental trainset attained a record speed of 443 km/h between Maibara and Kyoto on the Tokaido Shinkansen on July 26 1996.