AUSTRIA: The Tirol provincial government has formerly endorsed proposals to convert the 760 mm gauge Zillertalbahn to hydrogen traction, whilst acknowledging that conventional overhead electrification would have been cheaper.
The Land has commissioned further work on development of the concept, including a project structure and implementation strategy, along with the preparation of a tender for hydrogen trains to operate the 31·7 km line linking Jenbach with Mayrhofen im Zillertal.
'Tirol must become a pioneer when it comes to hydrogen', explained Governor Anton Mattle. 'It takes courage for a pilot project to prove how much potential hydrogen has. That is why today we launched the implementation of a climate-friendly, sustainable and hydrogen-powered Zillertalbahn.'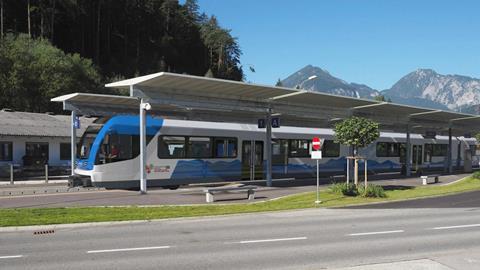 Operator Zillertaler Verkehrsbetriebe is expected to source green hydrogen through electrolysis using hydropower generation. Early estimates suggest that this could save up to 900 000 litres of diesel fuel per year. According to Mattle, the switch to hydrogen would increase operating costs by around €2·7m per annum, but this is expected to be covered by a contribution from the Zillertal tourism associations. He believed that the cost of hydrogen would reduce substantially in the coming years.
The procurement of new rolling stock cannot begin until the Land has tendered a revised operating concession, raising doubts over whether the fuel cell trains could be operational by 2027 as envisaged locally. The province is hoping that the federal government will contribute at least half of the estimated €100m cost.
The opposition FPÖ and Green Party have called for the project to be cancelled, as they consider it too expensive and there is too much uncertainty about the figures. There have been suggestions that the line should converted to 1 435 mm gauge and electrified to facilitate through running from ÖBB's national rail network.
Zillertaler Verkehrsbetriebe's Chief Technology Officer Helmut Schreiner was dismissed on June 22, after it was confirmed that he did not possess the academic qualifications he had claimed.