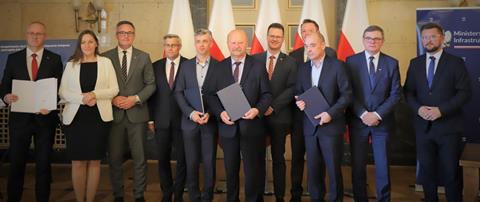 POLAND: The Council of Ministers approved the 2023 to 2030 National Railway Programme at a meeting on August 16.
The package covers the financing of several ongoing and planned major projects, enhancements to various strategic main lines and the construction of greenfield regional railways.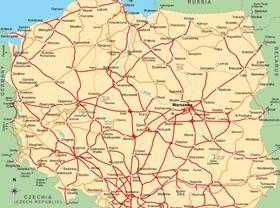 The 170bn złoty programme is being wholly underwritten from EU sources and structural funds, split between the EU's 2014-20 budget period (79bn złoty), the 2021-27 budget (80bn złoty), and the Recovery & Resilience Fund (11bn złoty).
Projects underway
The programme sets out a roadmap to ensure the delivery of various projects which are already underway:
the 7·5 km Łódź cross-city tunnel for suburban trains, connecting Fabryczna and Kaliska stations;
modernisation of the Gdynia – Słupsk route;
renewal of the Katowice – Zebrzydowice (Czech border) line;
modernisation and electrification of the Białystok – Ełk – Trakiszki (Lithuanian border) line to allow 250 km/h operation; this is linked to the planned launch of Rail Baltica services between Poland and Lithuania.
National corridors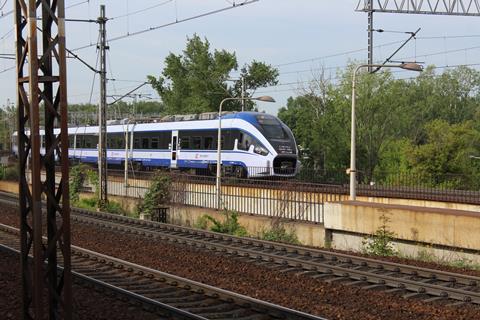 The funding also covers the delivery of improvements on national corridors. These include:
modernisation of the Skierniewice – Łuków main line south of Warszawa;
electrifying the Bydgoszcz – Kościerzyna – Gdynia line;
raising the line speed from 200 to 250 km/h on the CMK trunk route that links Grodzisk Mazowiecki south of Warszawa with Zawiercie, north of Katowice and Kraków;
upgrading various sections of the Warszawa – Bydgoszcz – Kołobrzeg, Warszawa – Białystok and Warszawa – Radom – Kielce – Kraków routes to permit 200 km/h operation;
electrification of almost 1 400 km of railway lines in total throughout the country.
Warszawa cross-city improvements
Another key element of the programme is the modernisation of Warszawa's suburban and long-distance cross-city routes, both of which link Zachodnia and Wschodnia stations through the city centre.
The main junctions controlling access to the corridors at both ends are to be resignalled. This would enable more frequent suburban services running at 2½ min headways, while inter-city trains could be pathed at 3 min intervals.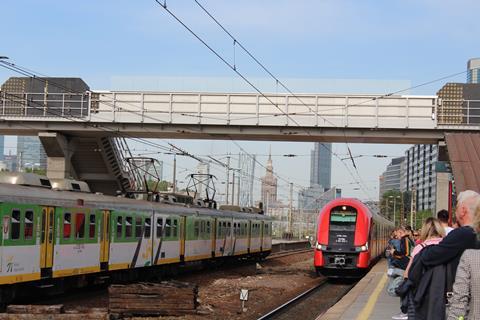 An additional underground station would be constructed near Rondo De Gaulle, while the station at Powiśle is to be moved closer to the River Wisła. Other work includes remodelling of Śródmieście station to add a walkway to metro Line 1's Centrum station.
New regional lines
The programme also envisages the construction of various regional railways to improve local rail connectivity.
Among the planned routes is a 73 km line on a new alignment to connect connect Zegrze Południowe on the existing network north of Warszawa with Przasnysz. A single-track, electrified line is planned with a line speed of 160 km/h and 11 stations. PKP PLK called tenders for detailed design of the line on August 21.
Another proposal would cover the reactivation of the route between Katowice and Jastrzębie-Zdrój which closed in 2001. According to the government, Jastrzębie-Zdrój is the largest town in Poland without rail access for its population of almost 90 000 inhabitants. The reopening will require the reconstruction of two sections of railway totalling almost 20 km linking Jastrzębie-Zdrój Centrum with Pawłowice Śląskie and Żory with Orzesze. Procurement of design services got underway in August, says PKP PLK, and civil works are expected to take place in 2026-29. The budget for the reopening is 475m złoty.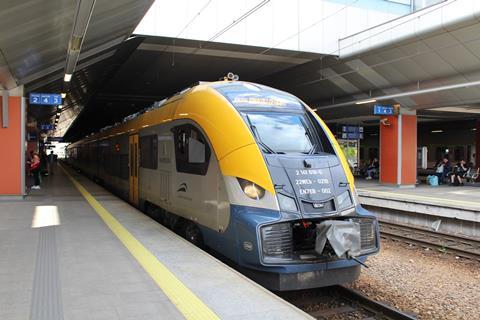 Another new line approximately 40 km long is to be developed to run from Podłęże on the Kraków – Tarnów main line to Tymbark on the Chabówka – Nowy Sacz route. This aims to create a more direct connection from Kraków to Zakopane and Nowy Sącz.