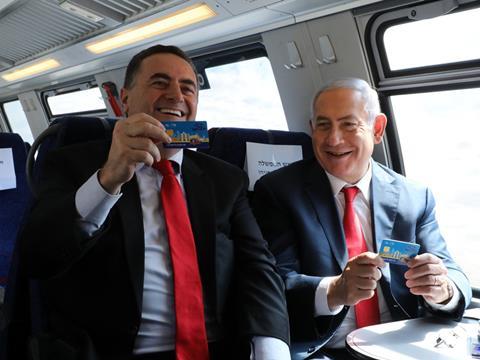 ISRAEL: Passenger services on the A1 fast line between Ben Gurion Airport and Jerusalem began with a low-key launch on September 25. Travel is initially being offered free of charge, but must be pre-booked.
At present only one of the two tracks is in use and electrified at 25 kV 50 Hz. Israel Railways is operating a shuttle service of two trains per hour, with passengers to or from the rest of the network required to change to or from diesel services at the airport. Maximum speed on the line is currently 120 km/h, less than the design speed of 160 km/h, and the journey time is around 20 min.
Completion of the electrification between the airport and Tel Aviv HaHagana will reduce the journey time to around 30 min for 57 km.
Prime Minister Benjamin Netanyahu said the launch of services was 'an historical day', with Jerusalem 'at last linked with other parts of Israel by a modern railway line with the most advanced signalling, communication and tunnel security systems'.
He predicted that the line would 'revolutionise' travel to and from Jerusalem, adding that the delays in opening were 'negligible compared with the achievement.'