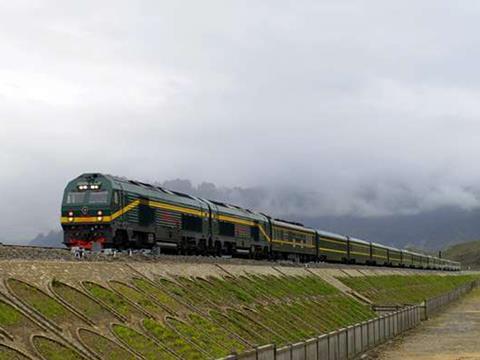 CHINA: The National Development & Reform Commission approved plans for the construction of three lines serving Tibet, Inner Mongolia and Shanxi on October 30.
The Tibetan line is to start at Xierong on the Lhasa – Xigaze route which opened in August, and will run eastwards for 402 km to Nyingchi. It would be electrified, along with the 32 km section of existing line between Xierong and Lhasa.
Construction is expected to take seven years at a cost of 36·6bn yuan; associated municipal development, road and defence related works would be funded separately. The alignment would be designed for 15 passenger trains/day running at up to 160 km/hour, and 3 000 tonne freight trains giving a capacity of 10 million tonnes/year.
The second line to be approved is a heavy haul coal corridor of 200 million tonnes/year capacity running 1 807 km south from Ordos in Inner Mongolia to Ji'an in Jiangxi province. Construction is expected to take five years.
The third approval covers a 137 km Passenger-Dedicated Line from Datong in Shanxi province to Zhangjiakou in Hebei, suitable for 250 km/h running. This is expected to cost 16·2bn yuan, plus 1·84bn yuan for trainsets.