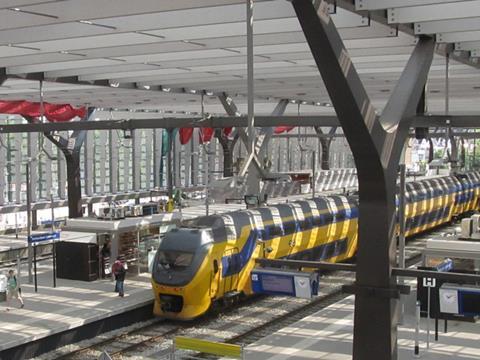 NETHERLANDS: The cabinet has approved a report commissioned by the Ministry of Infrastructure & Environment which sets out a 15-year vision for the rail network. Known as LTSA II, the strategy envisages spending €18bn on maintaining and managing the existing network, and €10bn on new infrastructure. The main ambition is to create a 'door-to-door public transport chain', with improved connections between modes.
The 17⋅5 billion passenger-km recorded in 2011 are expected to grow by between 4% and 27% by 2020 and by a further 3% to 12% in 2020-30, with most of the increase within the Randstad conurbation.
The report backs a 'turn up and go' service of six IC trains per hour on the Amsterdam – Eindhoven route from 2017, and six stopping services per hour on the Geldermalsen – Utrecht – Woerden route. However, there is no proposal to revive distinct high speed operations separate from other inter-city services following the Fyra debacle. Improvements to passenger information are envisaged, in particular to enable passengers to change their plans when necessary.
Overall rail freight costs are said to be 10% to 20% higher than in neighbouring Germany or Belgium, and the report says that freight needs to be made more competitive by creating more capacity on the main international corridors. These are often shared with domestic passenger services, and the strategy says freight should get higher priority than at present. More use should also be made of the dedicated Betuwe Route.
Signalling and level crossing safety need to be improved, and the cabinet is due to take a decision soon on the nationwide deployment of ERTMS.
Implementation of the strategy would require improved co-operation between national, provincial and local governments, infrastructure manager ProRail, train operators and users' group ROVER. Consultation is planned for October, and by the end of the year the cabinet will reprioritise various projects so that 'structure follows strategy'. The ministry says that it wants to replace a 'blame culture' with a focus on the end user. Regulatory monitoring will in future take into account periods when services are degraded, rather than just look at annual averages.
Proposals to reintegrate NS and ProRail have been ruled out. But noting that the infrastructure manager would be transformed from an independent public body to an executive under the supervision of the ministry, the ProRail supervisory board announced on April 3 that Marion Gout-van Sinderen would be stepping down as President & Director-General with effect from July 1.