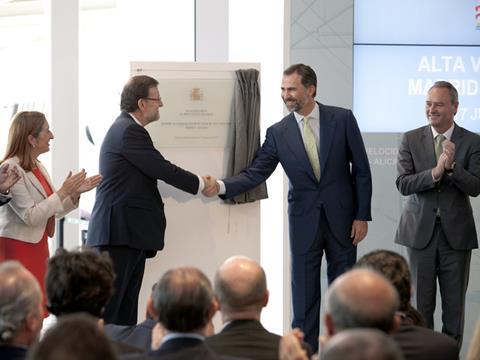 SPAIN: The 165 km of high speed infrastructure between Albacete and Alacant entered service on June 18, having been officially opened the day before by the Prince of Asturias, heir to the Spanish throne.
Prince Felipe was accompanied by Prime Minister Mariano Rajoy, as well as Development Minister Ana Pastor, Foreign Minister José Manuel García-Margallo and the presidents of the Castilla-La Mancha and Valencia regional governments.
Built at a cost of €1·92bn, the new line has cut the fastest Madrid - Alacant journey time by 50 min to 2 h 20 min. This is expected to be reduced to 2 h 05 min once work to commission ETCS Level 2 signalling is completed and the maximum speed can be raised to 300 km/h.
RENFE is operating 18 services a day between Madrid and Alacant, calling at stations on the high speed line at Cuenca, Albacete and Villena. There are also daily Alvia services from Alacant to Santander and Gijón, operated with gauge-changing Class 130 trainsets, as well as a service to Vigo operated at weekends and other peak periods using electro-diesel Class 730 trainsets.
With the opening of the route to Alacant taking its total length to 3 100 km, the Ministry of Development says that Spain now has the world's second-largest high speed network and the largest in Europe.