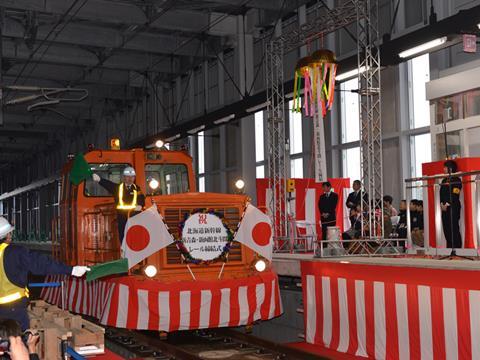 JAPAN: JR Hokkaido held a ceremony at Kikonai station on November 1 to mark the completion of tracklaying for the Hokkaido Shinkansen, which will bring high speed train services onto the country's northern island in 2016.
JR Hokkaido President Osamu Shimada was joined by Hokkaido Governor Harumi Takahash to ceremonially lay the last rail and tighten the fastening bolts, watched by around 50 invited guests.
The 148·9 km route connecting the Tohoku Shinkansen at Shin-Aomori with Shin-Hakodate-Hokuto includes a section of mixed-gauge track through the Seikan Tunnel, where the 1 435 mm gauge high speed trains will inter-work with 1 067 mm gauge freight trains and local passenger services passing under the Tsugaru Strait.
Last month JR Hokkaido took delivery of the first of its Series H5 Shinkansen trainsets, which will operate through services over the 829 km route from Shin-Hakodate to Tokyo in a combined pool with JR East's similar Series E5 sets.