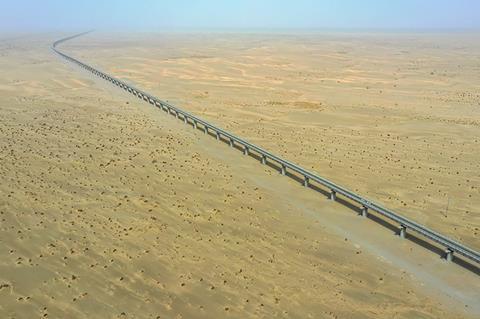 CHINA: The 825 km Hotan – Ruoqiang line in the Xinjiang Uygur Autonomous Region opened on June 16. In conjunction with other lines, this completes a 2 769 km railway ring around the Taklimakan desert.
Construction of the non-electrified single-track railway between Hotan and Ruoqiang began in 2018. The line has been designed for 120 km/h operation, and can accommodate a maximum train length of 850 m and a loading of up to 4 000 tonnes.
The route includes five viaducts with a combined length of 49·7 km. More than 13 million trees have been planted to protect the line from sandstorms.
The 22 stations serve a string of towns between the Tarim Basin and the Altun Shan mountain range. End-to-end journey time for passenger trains is 11½ h, while freight traffic is expected to reach 15 million tonnes/year.
Taklimakan desert loop
Route
Length, km
Opening date
Ruoqiang – Korla
467
December 9 2020
Korla – Kashgar
988
December 6 1999
Kashgar – Hotan
488
December 30 2010
Hotan – Ruoqiang
825
June 16 2022