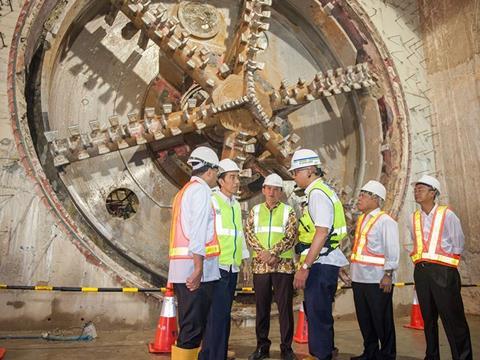 INDONESIA: President Joko Widodo attended a ceremony on February 23 to mark the completion of tunnelling on the Jakarta metro.
Boring of the 6 km underground section started in September 2015. Japan Tunnel Systems Corp supplied four 6·7 m diameter earth pressure balance TBMs.
The underground section is split into three works packages. The contractor for two of these is a joint venture of Shimizu, Obayashi, Wijaya Karya and Jaya Konstruksi, with the third being undertaken by a Sumitomo Mitsui and Hutama Karya joint venture.
The underground section between Hotel Indonesia and Senayan, with four intermediate stations, forms the northern part of the 15·7 km metro line. The elevated section, with seven stations, is also split into three works packages. Two are being built by a Tokyu-Wika joint venture; the third is being built by a joint venture of Obayashi, Shimizu and Jaya Konstruksi.
Work on the entire line is now 65% complete, and opening is planned for March 2019. The Metro One consortium of Mitsui & Co, Toyo Engineering Corp, Kobe Steel and Inti Karya Persada Tehnik will supply railway systems and trackwork, with rolling stock coming from a Sumitomo Corp and Nippon Sharyo consortium.