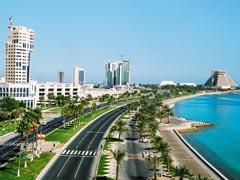 QATAR: The organisations responsible for developing rail transport in the emirate have been restructured, with the aim of shortening decision making processes.
Planning is underway for a passenger rail network as well as a metro which would connect central Doha with the airport and football stadia which will host the 2022 FIFA World Cup.
A Railways Steering Committee has now been established, chaired by the Prime Minister; this will be responsible for co-ordination of the entire rail project.
Qatar Railways Co, known as Qrail, will now handle tasks which were to have been assigned to Qatar Railways Development Co, a 51:49 joint venture of state-owned property development group Qatari Diar and DB International which was formed in 2009 to manage the railway project.
DB International is assisting with development of the railway plans under an agreement signed in August 2008. On December 2 the German firm announced the signing of a new contract, which will see it take over the provision of engineering services and help to train local staff. DB International consultants working on the project will be seconded to Qrail.
DB said the next step of the project will be issuing invitations to tender for various components of the project.