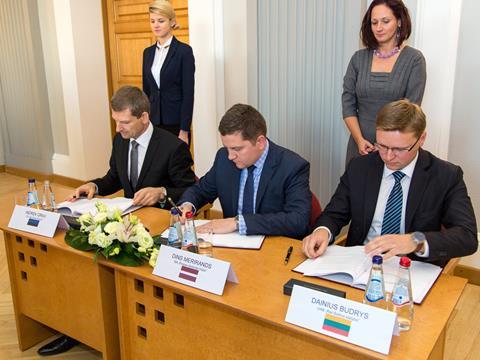 EUROPE: Agreements to establish an equally-owned company to co-ordinate the construction of the Rail Baltica standard gauge line between the Polish border and Tallinn were signed by representatives of Lithuania, Latvia and Estonia on October 28.
'This is the largest-scale joint project in the history of our country, and the establishment of a joint venture shows that all countries are taking the project seriously', said Estonia's Minister of Economic Affairs & Infrastructure Urve Palo.
RB Rail is to be based in Riga and will be responsible for project development, approving important decisions and marketing. It will be owned by national companies Rail Baltica Statyba (Lithuania), Eiropas Dzelzcela Linijas (Latvia) and Rail Baltic Estonia, which will each make a start-up contribution of €0·65m, hold a one-third stake and appoint two board members.
Each country would finance and own its section of the 728 km double-track 1 435 mm gauge electrified line, which would be designed for mixed-traffic operation. It is envisaged that 240 km/h passenger trains would run every 2 h, taking around 4 h from Tallinn to the Polish border.
A 2011 study by Aecom priced the project at €3·68bn. Latvia provisionally estimates its 235 km section would cost €1·27bn, while Estonia expects to finalise the route for its €1bn section shortly, based on studies undertaken by Hendrikson & Ko. The three countries envisage up to 85% EU co-financing, which Lithuania's Minister of Transport Rimantas Sinkevičius said would be essential. The countries plan to submit their first applications for funds February 2015. Detailed studies are to be undertaken in 2016-19, with construction to start in 2020 for completion in 2024.
The route would pass to the west of Vilnius, but at Lithuanian insistence there is provision in the agreement for a future branch to its capital.
The creation of the joint venture 'is a long awaited event for all three Baltic countries', said Latvian Minister of Transport Anrijs Matīss. 'This important transport artery will serve as a bridge between Europe and the Baltics, and contribute to economic development.'