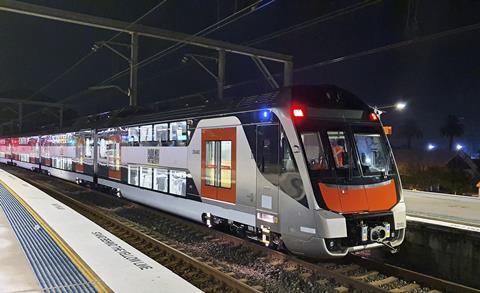 AUSTRALIA: The New South Wales government has awarded two infrastructure enhancement contracts totalling around A$600m for works on the southern section of the Sydney Trains suburban network as part of its A$4·3bn 'More Trains, More Services' investment programme.
Including platform lengthening and improvements to track, signalling and power supplies, as well as the expansion of stabling facilities, the package is intended to support the introduction of new suburban and inter-city EMUs and allow the operation of more frequent services on the Illawarra, Airport and South Coast lines.
The Next Rail partnership of John Holland and Jacobs will deliver works on the inner-suburban section between Sydney Central and Hurstville. The Transport for Tomorrow grouping of Laing O'Rouke and KBR will undertake improvements on the southern section from Mortdale to Kiama, including platform lengthening at stations on the South Coast Line to accommodate 10-car New Intercity Fleet EMUs. Construction is expected to begin in the coming weeks for completion before the end of 2022.
The planned service improvements would add around 20% to peak capacity on Sydney Trains' T4 Illawarra Line, providing space for another 3 600 passengers, while an extra 2 400 places on the T8 Airport Line would provide a 60% uplift on current capacity. The South Coast Line would see a doubling of the off-peak inter-city service between Sydney and Wollongong to half-hourly.
'We're prioritising these lines because they are among the busiest on the network, catering for 440 000 trips in a typical day', explained NSW Transport Minister Andrew Constance when the contracts were announced on May 21.
'We're cracking on with major infrastructure projects like this one to ensure we support jobs, communities and the economy at this critical time. Today's announcement means we are keeping people in work and creating about 350 direct new jobs and around 200 indirect jobs located either in Sydney or on the South Coast', he added.