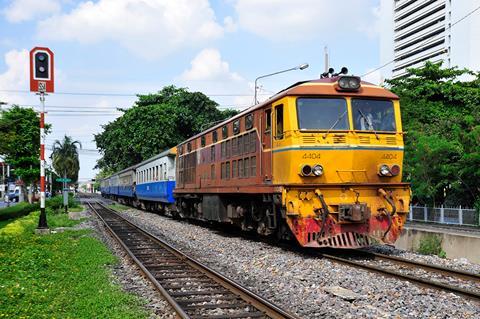 THAILAND: State Railway of Thailand has formally signed the first of 14 contracts for work on the planned 1 435 mm gauge rail link linking Bangkok and the northeastern province of Nakhon Ratchasima.
Valued at 50·6bn baht, the contract with China Railway International and China Railway Design Corp was signed at a ceremony on October 28 attended by Prime Minister Prayuth Chan-o-Cha.
Contract 2.3 covers the trackwork, electrical and mechanical systems for the 253 km line, along with a fleet of EMUs. There is also provision for technology transfer and staff training. The work will be split into three phases: design, construction, and training for operations and maintenance.
Currently budgeted at a total cost of 179bn baht, the line is due to be completed within 64 months, according to the government. The first phase will have six stations, at Bangkok (Bang Sue), Don Muang, Ayutthaya, Saraburi, Pak Chong and Nakhon Ratchasima.
Transport Minister Saksayam Chidchob said the Thai side would be responsible for the civil works, while the Chinese contractors would oversee the design and installation of track, electrical systems, rolling stock and operating systems. However, the ministry was planning to seek Cabinet approval to launch an institute to conduct research and development into track technology, aiming to increase local expertise in this field. Boosting the use of local materials would create jobs worth about 6bn baht a year and add about 21bn baht in value to the Thai rail industry, he explained.
According to Prayuth, the standard gauge railway 'will further strengthen Thailand-China relations, and reflects the commitment of both countries in developing infrastructure to promote economic prosperity, transport connectivity, and people-to-people relations'.
The Thai government has placed great importance on the line, arguing that it would enhance national competitiveness and could be a key mechanism for national and regional development. Officials suggested to local media that cities along the route would become regional hubs, helping to tackle the country's problems of uneven development.
'This project will also give an opportunity for an exchange of knowledge', said government spokesperson Anucha Burapachaisri. 'Thailand intends to use the technological know-how for the best interests of the country and its people, and the region. The project will enhance the transport network between the two countries and regional connectivity, binding the hearts of the people for the years to come.'
Saksayam confirmed that work was already underway on designing the 354·5 km Phase 2 which would extend the standard gauge line from Nakhon Ratchasima to Nong Khai, close to the border with Laos. China envisages that the line will eventually form part of a much larger trans-Asean corridor, connecting with the railway now under construction in Laos and potentially extending as far south as Singapore.