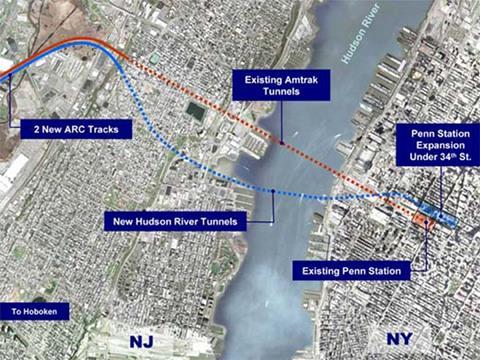 USA: Having unilaterally terminated construction of the new trans-Hudson commuter rail tunnel on October 7, New Jersey Governor Chris Christie subsequently agreed to postpone his decision for two weeks.
Christie acted to scrap the project after its executive committee found that the cost of the $8·7bn 'Access to the Region's Core' project could escalate by up to $5bn. But he backtracked after a visit to Trenton by US Transportation Secretary Ray LaHood, who said he had 'a good discussion' with the Republican governor.
The two agreed to put together a working group from the Department of Transportation and NJ Transit to review various options and report back to Christie within two weeks. No details have been released it is reported that new funding streams may be sought. Nevertheless, Christie remains concerned that 'the ARC project is not financially viable', and he has asked NJ Transit to begin winding down its work.
Existing funding sources for the project include $3bn each from the federal government and the Port Authority of New York and New Jersey, with the remainder coming from New Jersey. This means that any financial overruns are currently the responsibility of the cash-strapped state, and Christie says it doesn't have any more resources. 'In the end, this is a financial decision', he insisted.