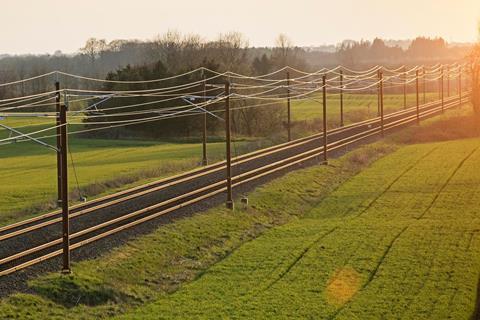 DENMARK: Preparatory works are to get underway this month on the 25 kV 50 Hz electrification of the Roskilde – Kalundborg line in western Sjælland, infrastructure manager Banedanmark announced on January 22.
This includes the removal of lineside vegetation on the first section of the route between Roskilde and Holbæk, which is due to be energised by the end of 2021. Banedanmark says work will start in March on the reconstruction of four bridges and track lowering under a further five to provide clearance for the overhead lines.
Banedanmark plans to use a rail-mounted vacuum excavator to dig the foundations for the OLE masts. Installation will begin towards the end of this year, followed by a 15-day blockade in spring 2021 to facilitate the stringing of the overhead wires.
Resignalling of the line with ETCS Level 2 under the national Signalling Programme is now expected to follow completion of the electrification, rather than preceding it.
'Electrification provides a wide range of benefits for both passengers and those living by the line', explained Banedanmark's Project Director Jette Aagaard. 'Electric trains emit far less CO2 than diesel trains, providing a better environment at the stations and along the route. In addition, electric trains will be able to run at a higher average speed, improving performance.'