INNOTRANS: Stadler will be unveiling its hydrogen-powered Flirt H2 multiple-unit for California's San Bernadino County Transportation Authority at InnoTrans, and displaying its battery Flirt EMU, three trainsets for the UK, a Euro 9000 locomotive and TINA, its next-generation of trams.
Stadler's signalling activities will have their own stand for the first time, highlighting its portfolio of automatic train operation, ETCS, CBTC and other systems.
California Flirting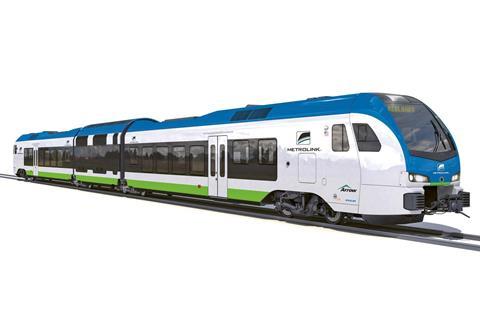 The Flirt H2 multiple-unit was ordered by California's San Bernardino County Transportation Authority for the Redlands Passenger Rail Project, a 14·5 km line between the University of Redlands and San Bernardino, serving five stations and connecting with Metrolink commuter services to and from Los Angeles.
The trainset has two cars and a central powerpack containing the fuel cells and hydrogen tanks.
The fuel cell charges a battery which then supplies the vehicle's traction, HVAC and other power needs, and enables regenerated braking energy to be stored. The unit has 108 seats, standing room and a maximum speed of 130 km/h.
Schleswig-Holstein answers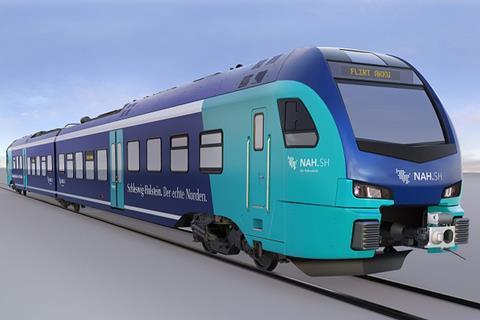 Schleswig-Holstein transport agency NAH.SH has ordered 55 battery-electric Flirt units to help decarbonise operations on its non-electrified routes in northern Germany.
The 46 m long Flirt BEMU has 124 seats as well as two multifunctional zones for wheelchair users, pushchairs and bicycles and an accessible toilet.
Under test conditions Stadler's prototype battery unit achieved a range of 224 km.
HEAG Mobilo TINA tram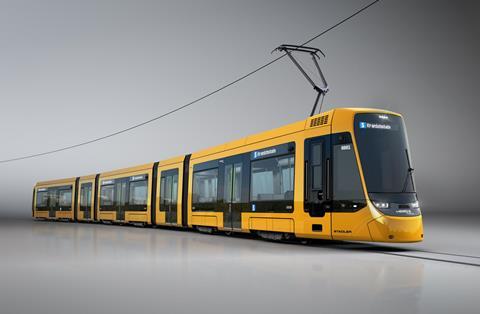 Darmstadt transport operator HEAG Mobilo was the launch customer for the Total Integrierter Niederflur-Antrieb (total integrated low-floor drive), Stadler's latest generation of tram which does not require steps and seat boxes above the drive systems.
The five-section tram for HEAG is 43 m long with 101 seats and space for 272 passengers. Large windows provide a clear view and, together with the high ceiling, create a feeling of spaciousness. A driver assistance system with traffic sign recognition also increases safety.
Rail Force One Euro9000 locomotive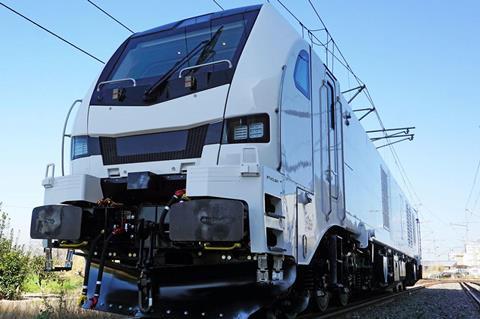 Euro9000 six-axle freight locomotives have been ordered with multi-system configuration for Germany, Austria, Switzerland, Italy, the Netherlands and Belgium.
The TSI-compliant locos are intended for use on the main European rail corridors and are fitted with ETCS and a radio remote control system as standard.
The modular design enables up to three different drive systems to be installed together: electric, diesel with two 950 kW engines, and batteries for environmentally friendly operation on non-electrified routes.
A power range of up to 9 MW and tractive force of up to 500 kN makes operation with one locomotive possible in many situations that currently require two.
ELP was Stadler's first customer for the Euro9000, ordering 30 electric locomotives so far under a framework agreement for at least 100.
The locomotive on display will be operated by the Dutch freight operator Rail Force One, the first company to lease a Euro9000 from ELP.
Welsh tri-mode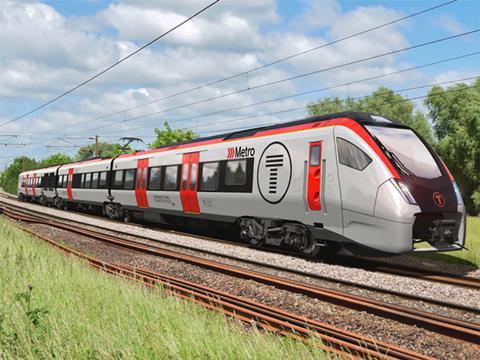 Transport for Wales has ordered 35 Flirt multiple-units including 24 tri-mode sets equipped for 25 kV 50 Hz electric, battery or diesel operation.
The vehicles comply with the latest TSI standards and have been designed to meet the requirements of TfW and the local infrastructure.
The low-floor design allows level access at every door, making it easier and faster for passengers to get on and off. All trains are equipped with air-conditioning and space for wheelchairs, pushchairs and bicycles.
The first tri-mode Flirts are currently on test and are scheduled to start passenger service before the end of the year.
TfW Citylink tram-train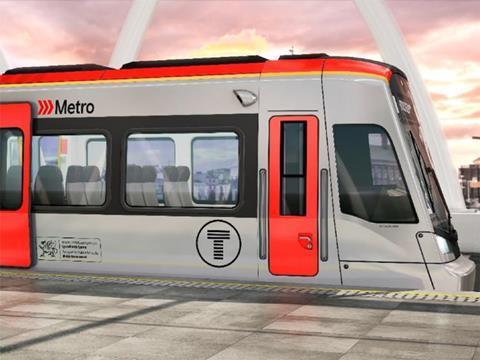 Stadler is supplying Transport for Wales with 36 Citylink high-floor tram-trains for services around Cardiff. They have a maximum speed of 100 km/h and will be equipped for 25 kV 50 Hz operation and to use lithium-ion battery power on non-electrified lines.
The TfW Citylink is 40 m long with a capacity of 252 passengers, air-conditioning, multifunctional zones for bicycles, seats for persons with reduced mobility and two spaces for wheelchair users.
Merseyrail IPEMU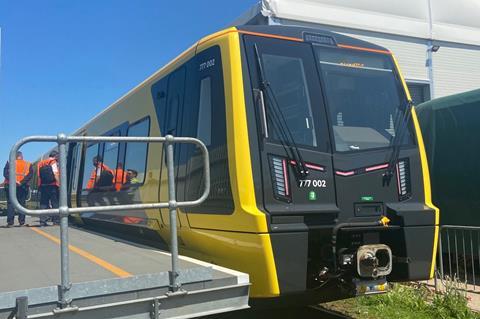 Stadler is supplying 53 custom-designed Class 777 four-car 750 V DC third rail EMUs for the Merseyrail network around Liverpool.
Seven of these will be independently-powered electric multiple-units with underfloor batteries to enable services to be extended up to 25 km onto non-electrified routes.