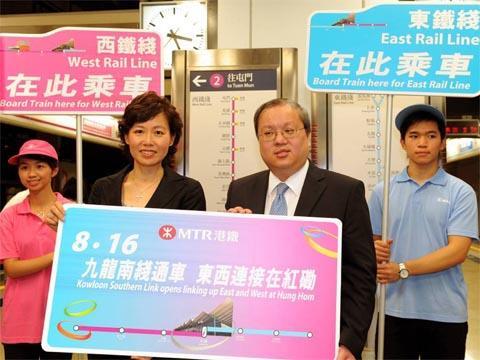 CHINA: The Kowloon Southern Link opened for revenue service on August 16, finally connecting the ex-Kowloon-Canton Railway West Rail and East Rail routes.
Passengers using West Rail to and from Tuen Mun in the Northwest New Territories previously had to change to MTR's Tung Chung line at Nam Cheong in order to reach Kowloon and Hong Kong Central. West Rail services now continue via Austin and East Tsim Sha Tsui to Hung Hom, where the platform layout has been revised to provide cross-platform interchange with East Rail services.
The KSL project involved construction of a 3·8 km underground link with one intermediate station. This had to be built through one of Hong Kong's busiest districts without disturbing nearby properties. The line between Hung Hom and East Tsim Sha Tsui, which was operated as part of East Rail, has been transferred to West Rail, involving modification of the track layout and signalling.
MTR estimates that the journey time between Tuen Mun and Tsim Sha Tsui has been reduced by more than 20 min, and expects that completion of the extension will increase the number of daily commuters using West Rail by around 30 000. Peak services on the route will be stepped up from 3½ min to 3 min headways. 'Opening of the Kowloon Southern Link will bring a new degree of inter-connectivity to our railway network', said MTR's Head of Operations T T Choi.
Austin station is located close to the Elements Shopping mall, MTR's Kowloon station, the China ferry terminal and the future terminus of the planned Express Rail Link to Guangzhou and Shenzhen.