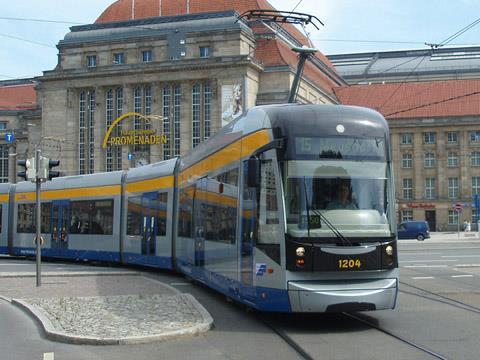 GERMANY: Leipzig transport authority LVB placed a €29m order for a further nine Bombardier Transportation low-floor trams on January 21.
Following the delivery of 24 Flexity Classic trams in 2005-07, LVB has now exercised an option for nine more of the five-module, 12-axle vehicles, which are customised to suit LVB's 1 458 mm gauge network.
The uni-directional trams are 45 m long, 2 300 mm wide, have 68% low-floor area and can accommodate up to 265 passengers. They will be manufactured at Bombardier's site in Bautzen with delivery scheduled for the second half of 2011.
The order is part of LVB's strategy to modernise its fleet, which consists mainly of refurbished Tatra cars. In June 2009 LVB ordered 18 Type NGTW 6 Leoliner trams from Heiterblick for €23m, which are due to enter service in 2012, and has been promised funding for a further 18 vehicles.