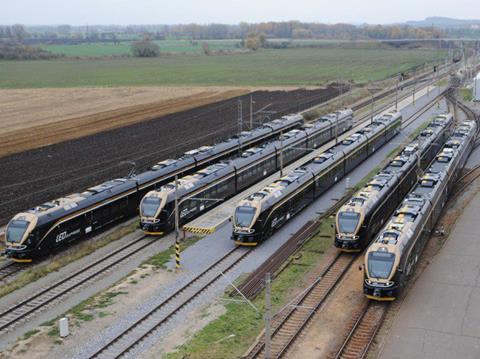 GERMANY: Czech open access operator LEO Express has started recruiting train crew to operate a long-distance passenger service between Berlin and Stuttgart, which it says it hopes to launch in mid-August.
The company's German subsidiary LEO Express GmbH is looking for qualified train managers to be based at Berlin-Lichtenberg and Heidelberg, where the trains would be stabled. With the appropriate safety certification, they will be responsible for both operations and shunting, overseeing other train crew and customer service staff, working a flexible roster with 'regular overnight stays'.
The move follows the insolvency of open access operator Locomore, which launched its own crowd-funded Stuttgart – Berlin service last December. This offered one train each way per day departing from Stuttgart at 06.21 and returning from Berlin at 13.06. Locomore had leased refurbished coaches from SRI Rail Invest group, and outsourced the operation of its trains to Hector Rail, which holds a licence to run in Germany and provided the train crew.
While patronage had been growing steadily, Locomore suspended operations in mid-May, explaining that its financial reserves had been exhausted. LEO Express immediately expressed interest in taking over the business, with CEO Peter Köhler confirming to Handelsblatt that it had made an offer for Locomore in order to enter the German market. This was one of several merger and acquisition opportunities in Europe at which the company was 'looking closely', he explained. Locomore's administrators confirmed in June that talks were being held with two 'very serious prospects'.
Asked about the recruitment programme, LEO Express said it was currently unable to comment.