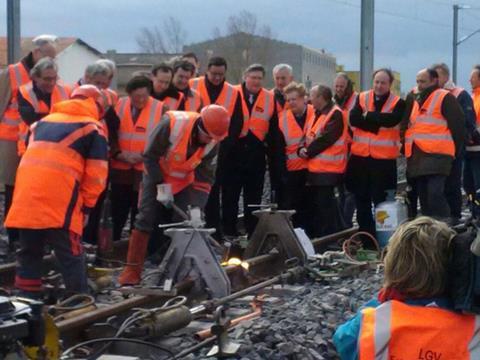 FRANCE: On March 31 SNCF President Guillaume Pepy joined SNCF Réseau President Jacques Rapoport and other dignitaries as the last rail was welded to mark the completion of construction work on Phase 2 of LGV Est, the high speed line between Paris and Strasbourg. Work on Phase 2, covering the 106 km between Baudrecourt and Vendenheim, had begun in 2010.
Following further signalling work to enable control of the new route from Pagny-sur-Moselle, commissioning trials and staff training, Phase 2 is due to enter service on April 3 2016. This will enable the fastest Paris – Strasbourg journey time to be cut to 1 h 48 min, and that between Luxembourg and Strasbourg via Thionville and Metz to be reduced to 1 h 36 min.
Under an agreement signed on September 1 2009, a total of €2∙01bn has been provided to build Phase 2 by central government, 16 local authorities in France, the Grand Duchy of Luxembourg and the European Union.