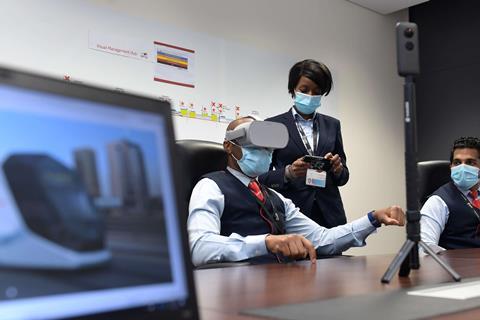 UAE: Dubai's Roads & Transport Authority and metro and tram operator Serco are using virtual reality during the training of tram drivers.
'Introducing cutting-edge technologies avails trainee drivers of interactive experiences and opportunities', said Hassan Mohammad Al Mutawa, Director of Operations at RTA's Rail Agency. 'They will be subjected to various scenarios to hone their skills of controlling trams and avoiding incidents. Such exposure will also boost the safety of passengers and develop drivers' reactions towards anticipating and avoiding the mistakes of others.'
Future plans include using VR to support maintenance, risk assessments, incident investigations and safety training.
Wallace Weatherill, Managing Director of Serco Middle East for the Dubai Metro & Tram contract, said VR-based training would supplement traditional training methods to help trainees transition between classroom-based theoretical training and in-cab practical training. 'Better-prepared trainee drivers will also be less likely to be involved in an incident during training', he said.