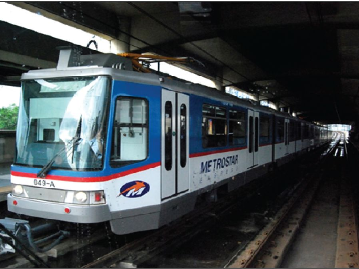 PHILIPPINES: The Department of Transportation & Communications signed a three-year maintenance and upgrade contract for rolling stock and signalling on Manila metro Line 3 on January 7. The 3·81bn peso contract came into effect the following day.
On December 24 DOTC announced that it had selected a joint venture of Busan metro operator Busan Transportation Corp, Edison Development & Construction, Tramat Mercantile, TMICorp and Castan Corp for the contract, which covers a signalling upgrade in 24 months and the overhaul of 43 cars. Busan Transportation has already sent 12 technical experts to Manila to assess the assets.
DOTC also invited SMRT International, Hamburg-Consult, Korail and a joint venture of Schunk Bahn-und Industrietechnik and Comm Builders & Technology to bid for the contract. It aims to increase capacity to 800 000 passengers per day.
In 2014 DOTC ordered 12 four-section articulated light metro vehicles from CNR Dalian for 540m yuan, with traction motors being supplied by Voith and brakes by Knorr-Bremse. The first of the new vehicles arrived in late 2015 and is due to be put into passenger service by the end of March. The second reached Manila on December 23, with two more expected to arrive in the next two months. Deliveries are due to end in January 2017.
The refurbishment of 12 Line 3 station escalators made by Schindler is expected to be completed this month.
DOTC announced on December 19 that the contactless automated fare collection system has achieved full acceptance. Trials started in July 2015 on Line 2, in August for Line 1 and in October for Line 3. The system has been supplied by the AF Payments consortium of BPI Card Finance Corp, Globe Telecom, Ayala, Metro Pacific Investments and Smart Communications First Pacific under a 1·72bn peso PPP contract awarded in 2014.