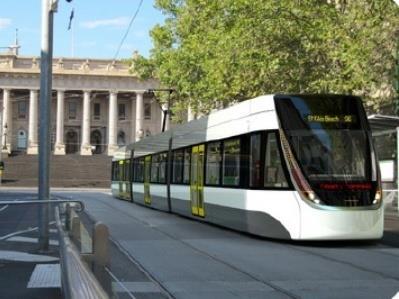 AUSTRALIA: The government of Victoria has selected Bombardier to supply 50 low-floor trams for Melbourne. The Flexity Melbourne vehicles will be 33 m long with capacity for 210 passengers. The contract also involves a major redevelopment of the East Preston tram depot and maintenance until 2017.

According to Industry & Trade Minister Jacinta Allen, the A$303m contract has 50·3% local manufacturing content. The bodyshells will be built at Bombardier's Dandenong plant, which will also be responsible for assembly and testing. A mock-up will be unveiled in 2011 and the first unit is due to enter service in 2012.
'Melbourne's tram network is an iconic symbol of our city', said Public Transport Minister Martin Pakula, as he announced the contract award. 'This new order will provide capacity to transport an extra 10 500 passengers in peak period.'

Yarra Trams currently operates 27 routes on the city's 250 route- km network using a fleet of 486 trams. The fleet includes 36 low-floor Alstom Citadis units and 59 low-floor Siemens Combinos introduced in 2001-04, and five 'Bumblebee' Citadis trams on loan from Mulhouse until December 2011. The older Z, A and B Class vehicles, bought in the 1970s and 1980s, are being refurbished and fitted with new seats, passenger information equipment as well as a brighter modern livery.