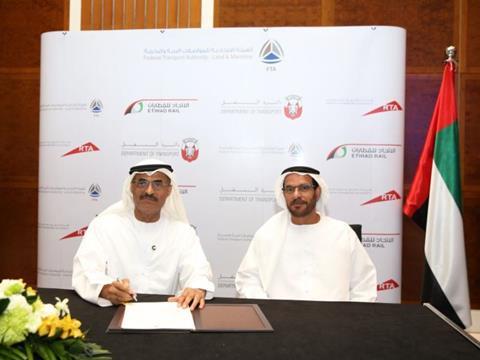 UAE: Etihad Rail was granted official safety authorisations to commence commercial operations on Phase 1 of the network at a ceremony in Dubai on December 9.
Operations partner Etihad Rail DB will run two trains per day on the 264 km route between Shah and Habshan and the Port of Ruwais, each carrying 11 000 tonnes of sulphur. This follows the operation of daily trial trains, which started in September 2013.
'The start of commercial operations is one of the biggest milestones we have achieved to date and it is an incredibly proud day for Etihad Rail, for the UAE and for the wider Middle East transport sector', said Etihad Rail Chairman Nasser Alsowaidi. 'During the past year, we have already transported more than 3 million tonnes of sulphur from Shah and Habshan to the port of Ruwais for our customer, the Abu Dhabi National Oil Company, as part of the testing and commissioning and trial operations phases. We now look forward to taking our operations to full commercial capacity, which will see Etihad Rail transport as much as 7 million tonnes of sulphur every year.'
Etihad Rail says that it is in advanced commercial and technical negotiations with other prospective partners, including DP World, ESI and Arkan. The company has to date signed more than 50 memoranda of understanding.
The 1 200 km network is being built in three phases. Construction of the 264 km Phase 1 between Shah, Habshan and the Port of Ruwais began in 2010. The 628 km Phase 2 will extend the railway to Mussafah, Khalifa Port and the port of Jebel Ali, as well as to the Saudi border through Ghweifat and the Omani border through Al Aïn as part of the future GCC Railway. The 279 km Phase 3 would serve the north of the UAE.
Etihad Rail currently has a fleet of seven EMD SD70ACS locomotives and 240 sulphur hoppers supplied by CSR Yangtze.
A feature article on the Etihad Rail network appeared in the February 2014 issue of Railway Gazette International, which subscribes can access in the digital archive.