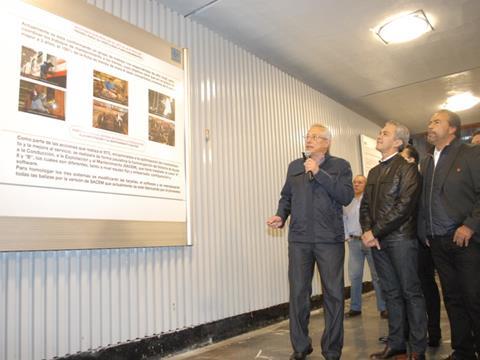 MEXICO: A three-year programme to upgrade 85% of the Mexico City metro fleet has been launched by operator STC, which is undertaking work in-house with the assistance of Alstom. In order to meet rising demand, trains are to be extended to nine cars on all lines, except Line 12 where they will be extended to seven cars.
The programme includes extending the 40 steel-wheel trainsets which operate on Line A from six to nine cars, which will increase capacity by 33%, according STC Director General Jorge Gaviño. Two extended trainsets were flagged off by head of the city government Miguel Ángel Mancera on January 10.
The programme also includes overhaul of 45 trainsets operating on Line 2 as well as improved maintenance of traction and braking systems on a further 85 trainsets. As part of an upgrade programme for Line 1 where track renewals and the refurbishment of 20 stations are being undertaken, 15 trainsets are to be acquired by STC.