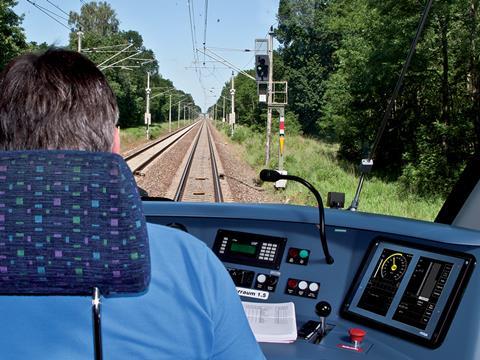 UK: Network Rail announced on December 19 that it had awarded Siemens Rail Automation a contract to design, test and obtain approval for installing Trainguard 200 onboard ETCS equipment on freight traction. This would be the initial phase of what Network Rail describes as 'one of the world's biggest ETCS retrofit programmes', which would see the 750 vehicles operated by the UK's six major freight operators equipped from 2022.
With the retrofit programme running into regulatory Control Period 7 (2024-29), the contract could be worth up to £150m, says Network Rail. The initial stage is being funded by the Department for Transport's National Productivity Investment Fund, which has allocated £450m to Digital Railway projects.
The freight fleet is to be equipped with ETCS Level 2 Baseline 3. Network Rail says that Trainguard 200 is a proven and reliable product drawing lower power, which also features 'highly robust fall-back odometry and radar configuration'. With a small footprint and flexible hardware, 'the system is ideally suited for design and installation across multiple freight classes', according to Network Rail.
Installation teams will be based at Holgate depot in York and at Eastleigh. Siemens and Network Rail will also be providing support to DB Cargo UK, Freightliner, Freightliner Heavy Haul, GB Railfreight, Direct Rail Services and Colas Rail to train 2 400 drivers on the new ETCS equipment, which will incorporate functionality for the existing AWS and TPWS train protection systems.
'This solution will allow the freight operating companies to continue to safely deliver a reliable service as ETCS technology continues to be rolled out across the UK', said Rob Morris, Managing Director of Siemens Rail Automation in the UK. 'Having proven our equipment and delivery capabilities in a number of similar projects in Europe, our experienced teams are now looking forward to working collaboratively with Network Rail and the freight operating companies to deliver this Digital Railway project.'