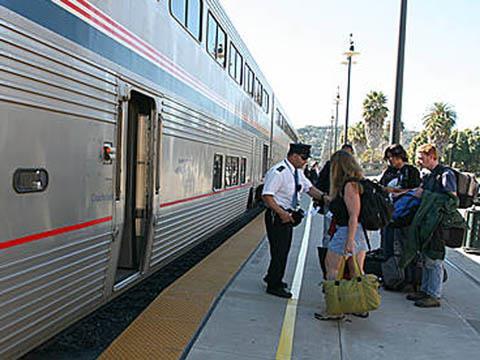 USA: A programme for the repair and return to service of stored passenger coaches and locomotives was presented to the Federal Railroad Administration by Amtrak at the end of March, all to be funded by the American Recovery and Reinvestment Act which has $1*middot;3bn set aside for the passenger operator.
The vehicles have remained in storage for several years due to funding shortages. Over the next two years, 60 Amfleet cars will be given varying levels of overhaul at Amtrak's workshops in Bear, Delaware. Another group of 21 double-deck Superliner cars used on long-distance services that have been stored for many years following accidents or major mechanical breakdowns will also be overhauled at Beech Grove works in Indiana.
Motive power will also get major attention. Amtrak is to overhaul 15 stored F-40 locomotives for long-distance trains. All main components will be replaced or refurbished including auxiliary generator power contactors, voltage regulators, batteries, bogies and air brakes. The electrical system, event recorder and cab components such as seats, doors, windows and controls will be inspected and replaced. The F-40s will be updated to current standards and interiors and exteriors will be repaired and repainted.
The refurbished rolling stock will provide Amtrak with badly-needed reserves and allow the railway to extend existing trains to handle growing ridership. The Amfleet coaches may be used for short-distance route expansion on services financially supported by individual states.
The funding programme will also include infrastructure investment. The programme covers track renewals, bridge works and improvements to communications equipment, signals and power supplies on the Northeast Corridor. Approximately 200 stations will be adapted to comply with US disabled access regulations.
Amtrak will also install Positive Train Control on the Northeast Corridor, and fund the completion of a prototype installation in Michigan at a cost of $60m.