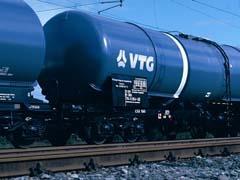 BIOFUEL: A year-long study into the effects of biofuel on wagon components and lining materials has concluded that there is no adverse effect on rolling stock at current concentrations.
Wagon leasing firm VTG Rail and lining manufacturers investigated the effect of petroleum products with 5% bioadditive, the level currently allowed in biofuels. The study looked the effects of fatty acid methyl ester additive in biodiesel, and also at bioethanol, which is the additive in petrol but is not currently carried by VTG's wagons. No softening or swelling was detected during six month immersion tests using 5% biodiesel and 5% bioethanol, with the only effect on the lining being minor discolouration which does not affect performance.
VTG Rail is now conducting further tests to ensure its wagon fleet can cope with additive concentrations of up to 15% by 2020.