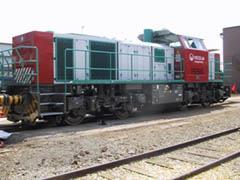 GERMANY: Veolia Cargo Deutschland subsidiary Dortmunder Eisenbahn has expanded its training facilities and introduced a programme to recruit and train local unemployed people.
A new 400 m² training centre opened in December close to the freight operator's base in Dortmund. The facility, equipped with the latest multimedia teaching materials, is intended to enhance the training and professional development offered to DE staff, but it is also available to external bodies seeking to train staff in railway operations.
In addition, DE has launched a venture with DBS Training & Consulting to hire 10 long-term unemployed people from the local area. The staff will be put through an intensive nine-month course in train operations, driving and logistics. 'We are breaking new ground with this project', said Mario Kopecki, Head of Operational Training at DE.
'The programme is a winner for both sides: we can meet the demand for qualified railway staff from our operational teams, and we can also offer a varied and challenging career path to local people who are currently without work - all in a market that is rapidly developing'.