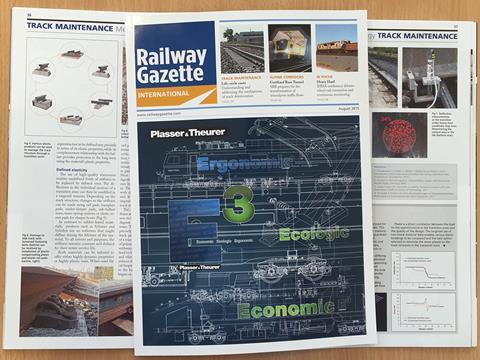 Feature articles in the latest issue of Railway Gazette International, the leading business journal for railway operators and suppliers, read in 140 countries. Subscribe to Railway Gazette International today.
Comment
World Congress on High Speed Rail: a sober outlook in Tokyo
News
Main Line
Urban Rail
Market
Industry
Innovations
Pointers
Analysis
Pause and reset as Britain reviews infrastructure management and competition, East meets west at Unife reception in Tokyo, Pakistan Railways out of intensive care
Track maintenance
Understanding and improving the track system
The Track 21 programme is exploring various mechanisms driving the degradation of ballasted track
Managing track stiffness in transition zones
Even in an era of highly mechanised maintenance, transition zones still require particular attention to manage variations in track parameters caused by the change in substructure
Dual-mode machines are the next step
Plasser & Theurer is producing three electro-diesel track machines capable of undertaking tamping, ballast regulation and stabilisation while being powered either by diesel powerpacks or overhead catenary
Long rails will last longer
As part of a strategy to eliminate welds and lengthen rail life, Union Pacific is adopting longer head-hardened rails which are delivered to California using a purpose-built ship
NR tests synthetic bridge beams
Network Rail has started site trials with synthetic cross sleepers and longitudinal baulks made from fibre-reinforced foamed urethane
Alpine corridors
Longest tunnel will transform transalpine traffic flows
Swiss Federal Railways expects passenger traffic on the Gotthard corridor to double by 2025 thanks to opening of the Gotthard and Ceneri base tunnels
Moving freight across the mountains
Major infrastructure projects now in progress will significantly reshape rail freight links across the eastern Alps through Austria and Slovenia
Ticketing
Innovations round-up
Apple Pay introduced in London, geofenced mobile ticketing in Mumbai, HKX fares on Qixxit
In focus
Unife warns against complacency
Much remains to be done before the Fourth Railway Package is adopted by member states. Murray Hughes reports from Unife's 2015 General Assembly in Bucuresti
Bigger, heavier, faster
Chris Jackson reports from the 12th IHHA conference in Perth as the heavy haul community takes on emerging technical challenges
Heavy haul electric on test
The HXD2F prototype developed by CRRC Datong is China's first locally-built locomotive with a 30 tonne axleload
Studying the compatibility of eddy-current brakes
This month sees the conclusion of the ECUC project to investigate the use of eddy-current brakes
Research & skills
Forum
People
Dieter
Sidetrack
Diary
Viewpoint
Pessure is growing to improve cross-border passenger services in Europe, believes Train2EU's David Kramer
Railway Gazette International is the leading business journal for railway operators and suppliers, read in 140 countries. Subscribe to Railway Gazette International today.